Jakki's Robins
Many people believe that a visit from a robin is a sign from spirit that our loved ones are near. These handmade robins are individually needle-felted and no two are alike. The perfect gift to remember a loved one throughout the year or at Christmas, each picture can be personalised with a name(s) or a message.
FULL COLLECTION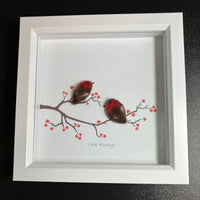 CAN'T DECIDE? GET A GIFT CARD
DELIVERY
We currently offer delivery to Ireland and the UK. Depending on product delivery will be €10 for smaller pieces to the Republic of Ireland €15 for the UK. 
Larger pieces will vary in prices this will appear at checkout .If it does not show delivery in your area, it doesn't mean we cant!. We can deliver worldwide we just need to get delivery charges manually.
If you would like to ship to the rest of the world, please get in touch with Michelle at the below email address to discuss delivery options. 
michelle@shellsdriftwood.com
I have ordered a few things at various stages from Michelle and they have always been beautifully done, hence why I keep reordering! Thank you very much Michelle!

Customer via Facebook
Possibly the easiest shopping experience ever! I contacted Michelle and told her I would like an original personalised wedding gift, she immediately came back to me with really lovely fun ideas. I was so pleased with the final design, I ordered another gift. Really well presented, well priced and lovely items. I couldn't recommend her enough. Thanks Michelle!

Customer via Facebook
I just received two of your amazing pieces as gifts. They even SMELL like Ireland! And the fantastic little custom gift tag! I'm so delighted to have your beautiful work.

Customer via Facebook