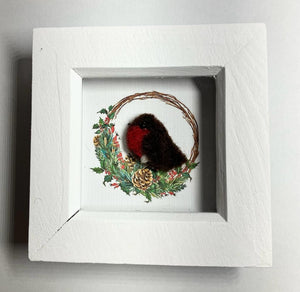 Many people believe that a visit from a robin is a sign from a spirit that our loved ones are near or you just simply love these little guys that visit us.
These handmade robins are individually needle-felted and no two are alike.
The perfect gift to remember a loved one throughout the year or for many different occasions, wedding, birthday, anniversary etc, each picture can be personalised with a name(s) or a message.
Please include any personalised requests in the order notes. 
Each picture is 5"X5", mounted on linen paper and comes with the frame.
THERE IS NO LOCAL PICKUP AVAILABLE ON THESE PRODUCTS.
DELIVERY IN ROI  €7